TRY ICELAND'S FAVOURITE SUNDAY MEAL!
Traditional Icelandic sunday roast……. with all the trimmings
Served every sunday from from 12 – 14.30

Slow cooked free range Icelandic leg of lamb with rosemary and garlic 
Served with:
Traditional "sugar glazed" potatoes
"Crispy" potatoes with rosemary and garlic
Home made red cabbage
Pan fried mixed mushrooms
Oven baked carrots
Green peas with mint
Sweet corn
Beer Hollandaise sauce
Mushroom sauce
2.990 kr. pr. person
Only served for the whole table - Book a table here: Sunday roast                                                                                       
---
BREAKFAST BUFFET
Weekdays from 07–10 | weekends from 07–11
WE CAN STORE YOUR LUGGAGE, WHILE YOU ENJOY THE BREAKFAST :)
Kick-start a day of adventure in Iceland with a hearty breakfast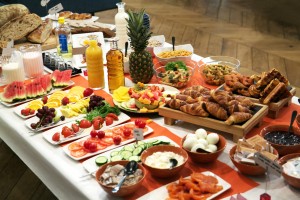 • bacon
• eggs, fried, scrambled and boiled
• sausages, chorizo and ham
• assorted cheeses
• smoked salmon
• fresh fruits and vegetables
• skyr
• yoghurt
• six kinds of bread
• croissant, croissant with almonds
• pain au chocolait
• assorted danish pastries
• belgian waffles
• assorted breakfast cereals muesli
• freshly brewed coffee and teas
• juices and more …
2.900 kr. per person

---
Sæta Svínið / The Sweet Pig
Welcome to Sæta Svínið ( e. Sweet pig)  Gastropub
We are all about LOCAL FOOD AND BEER
Tasty and fun food made with fresh and local Icelandic ingredients.
We offer a unique selection of Icelandic beer – 20 bottled, 10 on draft, and artisan cocktails to enjoy alongside the food.
Drop by for lunch, late lunch, dinner or drinks in a casual and fun atmosphere.
Hafnarstræti 1-3 / 101 Reykjavík • tel: +354 555 2900 • saetasvinid@saetasvinid.is •saetasvinid.is 
You can stop by for lunch, late lunch or dinner.
The lunch menu is served from 11.30 – 14.30. At 14.30 selected dishes from the lunch menu are served until the dinner menu starts at 17 and is available until 23.30.
All groups of 8 persons or more have to order from the group menu.
See more at: Sæta Svínið
---
Tapasbarinn
Tapasbarinn is an extremely lively restaurant where Spanish tapas tradition meets the freshest Icelandic ingredients.
It is located in a cellar at Vesturgata 3 in Reykjavik's central. 
The menu at Tapasbarinn offers over 50 different meet, fish and vegetable dishes so you can take your time and experiment various flavour combinations.
A must try is the Icelandic gourmet feast which is a great way to taste the best of Icelandic produce in one meal.
The restaurant has been open since the year 2000 and has become a popular place with the Icelandic crowd. 
It has the only kitchen in Reykjavík that is open 23:30 on weekdays and 01:00 on weekends.
The breezy atmosphere and the Spanish effects in the decorations make Tapasbarinn ideal for an enjoyable evening, a true ray of sunshine in downtown Reykjavík.
Vesturgata 3b, 101 Reykjavík • Tel: +354 551-2344 • tapas@tapas.is • www.tapas.is
Book a table here: Tapasbarinn - - Read the Great Reviews
The kitchen is open:
17:00 to 23:30 sundays to thursdays
  17:00 to 01:00 fridays and saturdays  
Menu
---
Sushi Social
Open at the end of 2011 and a hot favorite on the Reykjavik restaurant scene, Sushi Social offers a deliciously unique take on homegrown ingredients, fusing Iceland's freshest flavors with Japanese and South American influences. 
The menu offers a great selection, tempting smaller courses, traditional and "Juicy- Sushi" , amazing steaks and sweet desserts.
If you can't decide what to go for, the Icelandic feast is a perfect solution – six courses form an incredible taste experience that includes the national aperitif 'Brennivin' and an Icelandic Skyr panna cotta for dessert.
Fabulous chili mojitos and a gorgeously eclectic interior are the icing on the cake at Sushi Social. Hand- carved Brazilian curios and some 50 pretty Japanese birdcages complement the contemporary lines and gentle feel of the place. 
Sushi Social Þingholtsstræti 5, 101 Reykjavík • Tel: +354 568-6600 • www.sushisocial.is • sushisocial@sushisocial.is
You can try the Icelandic Feast
Icelandic feast 7.990 kr.
Amazing 7 course menu which combines Icelands best produce with Japanese and South American cuisine.
Starts with a shot of the Icelandic national spirit "Brennivín"
See Menu here: Icelandic Feast Menu
Or just choose from the great selections of the other menus: ALL MENUS